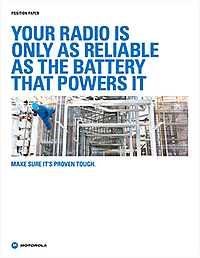 There's nothing more frustrating, and potentially dangerous, than when a battery fails in the field - whether it's on a construction site, or in a mission critical situation like a fire or 911 call.
You need to know that not only your two way radios will hold up to your work environment, but that when the inevitable happens, and that radio gets dropped or vibrated or shocked, that the radio keeping that two way radio working will also continue to work.
That's why you want to make sure the batteries you buy stand up to your demanding work environment and provide reliable power that your people count on.
When you download the FREE How Tough Are Your Batteries? whitepaper, you'll learn:
How popular battery brands stand up to a drop test
Which batteries stay tough through a vibration test
Which popular batteries pass an ESD test
How to choose the best battery to meet your business' needs
And more!
Motorola two way radios, and the batteries built for them, are made to perform together and provide you, the user, with the best communications experience you can expect for your product. Afterall, you're not only using it for communication, but safety and efficiency as well.
Download the FREE Whitepaper: How Tough Are Your Batteries?